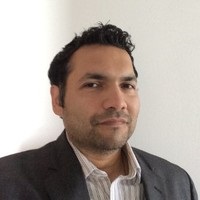 A People & Technology leader, with over 2 decades in the Application/Service/Data Integration and Automation space. Large & Small Company leadership with a hands-on style. 
Kedar Barve
Principal Technical Advisor/Architect
Seasoned Technology Professional with 2 decades of experience in different stacks and domain with focus in product engineering, architecture and backend components like Database , Cloud , Data domains
Chetana Pandit
Managing Director, Autosmic Digital India
Over 2 decades of extensive experience in accounting, audit, taxation laws and regulations allows Chetana to provide valuable insights and guidance to the company's finance and accounting team. She has a proven track record of implementing best practices, ensuring compliance with regulatory requirements, and optimizing financial performance.
Reshma Bhat
Managing Director, Autosmic Digital India
A unique blend of technical expertise and leadership. With a Computer Science degree and a Masters in Geoinformatics, Reshma makes informed decisions that align with the company's goals.
At this time, we are building a solution team in India. Freelances are welcome. Feel free to email us your profile.
Autosmic fosters a culture of Openness, Willingness & Camaraderie
Aspiration
Aspiration creates the drive to do something beyond what exists today. It is the essential ingredient for progress
Uniqueness
Everyone comes with their own uniqueness. We believe in identifying and blossoming this
Team Work
Team work is a soft skill. Being able to work together in co-operation is key to making large deliverables
Openness
Openness is about letting different ideas and issues surface and being available to address them
Simplicity
When things are made simple, it is easy to see clearly, and a lot can be achieved when there is clarity
Merit
Merit or Competence is a fundamental value. By gathering the right people we build respect for everyone
Innovation
Innovation is at the soul of a startup. Being able to look at new ways to do things well is key to progress
Compassion
We treat each other with respect and understanding. Everyone needs help and being a friend to someone is valuable